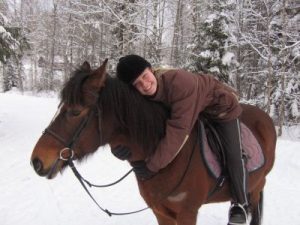 My name is Anu Honkonen.
I am 18 years old.
I was born in Muurame.
I have three brothers: Toni is 30 years old, Aki is 19 years old and Eki is 12 years old.
I live in the countryside.
I like very much animals and nature.
I have many hobbies: riding a horse, riding a bike, reading books, listen to music, taking care of animals, skiing, etc.
I have been studying English for six years at school, I have been studyiong Swedish three years at school and now I studying Russia at workers' institute in Jämsä.
I have a cat, her name is Elli and she is about 10 years old.
I have many good friends. They are all the time so funny!!!
It will be nice to see you too!
---