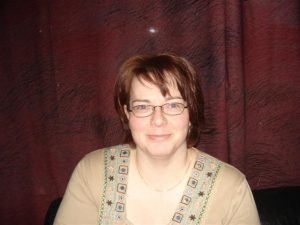 Hello,
My name is Katri Tamminen. I'm 40-years old. I'm married and I have two children. My older boy, Valtteri is 12-years old and the younger one, Samuli is 9-years old. My husband Mika is 44-years old and he is working in as an electrician.
I was born in Helsinki, but I have lived most of my life in Jämsä. My childhood home is a farm in a little village called Hassi. Now I'm living in Olkkola.
After the comprehensive school I have studied in the college and in a vocational school (truck driver). Last 15 years I have been working in a gas station.
Most of my free time, I spend with my kids. I help them with their schoolwork and with their hobbies. I also take care of my 90-years old mother, who's living alone in the countryside.
In the autumn I like to pick berries and mushroom in the forest.
I'm interested in genealogy and the history of Finnish wars, and as life should not be too serious, I like very much astrology and horoscopes.
Iceland is a fabulous and beautiful country, and I'm looking forward to see it. I hope we will see in next autumn.
Bye
Katri
---