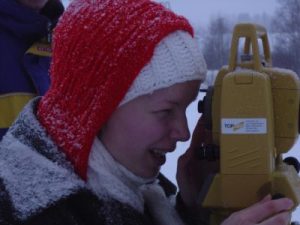 My name is Hanna Selin and I'm 20 years old. I'm a little shy and quiet (except among friends) and also a little serious, but I also can be happy and I do have a good sense of humour.
I'm originally from Nokia (yes, there really is a town called Nokia J). I went to high-school there, after which I moved to Jämsänkoski with my boyfriend. After we moved here I took a year off and after that I started studying again in the training program of nature and environmental care. I decided to go into this field because I'm very concerned about the state of the climate and I'd like to help this planet, even if my help isn't so big.
I'm into horses. Me and my boyfriend have our own horse, Friendly Bell. He is a six-year-old, warm blood gelding, with a background in trot-racing. He came to us recently from bad conditions and he was skinny and in bad shape, but now he's being treated well and he's being trained to be a riding horse. He is still young and he has a good life in front of him with us.
We also have an about a year-old iguana baby, called KuKu. It ("it" because we don't know it's sex yet) is very small in size, yet, but it will become very, very big., about 150cm long "dinosaur". Even though it is small, it thinks really big things of itself.
When I'm not taking care of our horse and our iguana, I spend my time reading and listening to music. Electronic music is close to my heart, or actually, a quite big part of my life. And of course I take care of our own little home.
---