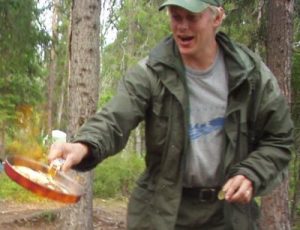 Hi!
My name is Keijo Vehkakoski and I'm 36 years old.
I graduated from university of Oulu (north of Finland) in 1997. My main topic was natural geography. I'm also nature and wilderness guide and I can make pancakes with flames :)(see picture).
I have been as a teacher since 2001. My main work task is teaching of basic knowledge of nature and environmental sciences like
– plant species
– principles of ecology
– principles of environmental protection
– basic skills of cross-country orienteering
– geographical information systems (GIS)
– computer-aided map planning
– principles of garbage disposal
– ad: automatic data processing
– entrepreneurship and project work
– physical education (sport)
We have four members in our family. So, I have young lovely wife and two kids (5 years girl and 3 years boy). We live in Jämsänkoski, which is small town (6000 inhabitants) beside of Jämsä.
About my hobbies: My favourite hobbies are related to nature sports like skiing (cross-country/downhill), skating, cross-country cycling and canoeing. I like to compete in cross-country skiing and adventure events.
---