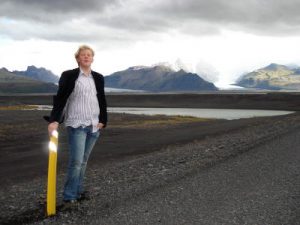 Hi!
My name is mr. Atli Már Björnsson and I'm 18. years old since February (born 1988). I live in Höfn in Hornafjörður which is a small town in the southeast coast of Iceland with population of 2000.
I grew up in Suðursveit which is about 60 km west of Höfn. In Suðursveit there are many beautiful places like; Vatnajökull glacier (which is the biggest glacier in Europe), the amazing glacier lagoon Jökulsárlón (I think it is a must for everybody to go there and sail between the icebergs) and many other interesting places.
I live in a real big family that includes; Björn (my father, 43) Þórunn (my mother, 39) Anna (my older sister, 21) Ólöf (my younger sister, 12) Jói (my little brother, 3) and couple of step siblings. Actually, my parents are divorced now.
These days I live in Höfn in the dormitory and go to Framhaldsskólinn í Austur-Skaftafellssýslu (for short FAS). In FAS I study subjects like, geographic, Icelandic, English, Mass media, German, Sociology, Sport and some other exiting subjects.
My hobbies are many and very various. But my mainly interest lies in playing my keyboard (and also other musical instruments), listening to music, sports, social life but mainly music and things connected to it.
I like most types of music, but I think that some are more fun to listen to than other. My favourite genres are Prog Rock, Classic Rock, Art Rock, Psychedelic Rock, Alternative Rock but also some more easy listening music.
My favourite bands are; Pink Floyd, Dream Theatre, Deep Purple, Led Zeppelin, Uriah Heep, Eloy.
My keyboard type is the Nord Stage 88.
---