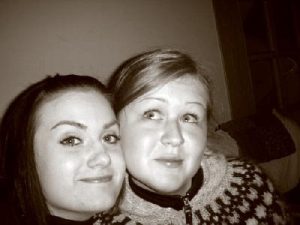 I'm the one on the right.
Hey, my name is Ósk, I'm 17 years old now but in September I'll turn 18 years old. I'm the youngest of 4 siblings. My parents are both over 50 years old and my father isn't working anymore so my mom is kind of taking care of the house both financially and as the housewife. She works on an old folks home.
My oldest brother is 30 years old and works as a police officer here in Höfn. He has two step children and he and his wife are expecting the third one this spring. I have one sister who is 27 years old. She goes to the University of Iceland and is learning nursing. My other brother is 24 years old. I live alone with my parents because all my siblings have moved out. We have one extra room in our house.
I don't know what to say about my interests because I'm not much into sports, at least not training myself but I can watch sports on TV. I really like music, but I really cannot name one favourite band because I can listen to almost everything.
About my future, I have many of them and I get a new idea every day. I think I will go to a university but I really don't know what it is that I'm going to study, I mean how can I know what I want to do when I'm fifty years old my interests change often every year.
---