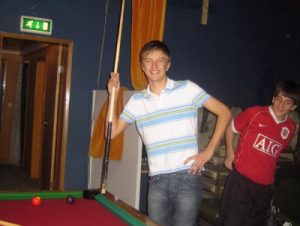 Hi!
My name is Hrafn Eiríksson and I'm just about to turn 18 (February to be precise). I live in Hornafjörður which is a small town on the Southeast-coast of Iceland with only 2000 inhabitants.
My family consists of me, my parents and my 4 brothers and sisters – although they've all moved out and got a degree of some kind. My father is a mechanic while my mother is a teacher.
I go to a school called FAS (abbreviation for Framhaldsskólinn í Austur-Skaftafellssýslu). I'm currently studying maths, computer science, geography, history and some languages (Deutsch sucks) and I plan to graduate next year.
My hobbies are very diverse. My main hobbies are "unusual computer usage "and everything connected to music in general. Thereafter come sports (mainly football) and many other interesting things. Apart from the social life which plays a big role in my daily life – and even more during the weekend (long for partying).
Music is, as I've said, one of my main hobbies. Apart from listening to music almost all day, every day I love playing the piano – although I'm not the typical classical piano player as someone might imagine. My favourite music is alternative- and indie rock, bands like Muse, Radiohead, Grandaddy, Midlake, The Arcade Fire, Godspeed You! Black Emperor and of course The Beatles.
I hope this gave you a little insight into my life here in Hornafjordur and if you have some questions…. or just if you 're bored…. please contact me via krummi@beyp.net (msn) or hrafne@gmail.com (email). You can also reach my website here, but it's only in Icelandic so I'm pretty sure you wouldn't understand … anything.
---