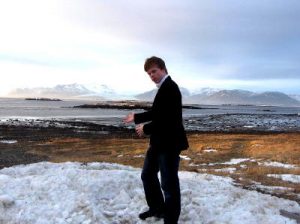 Hi,
My name is Hörður Þórhallsson and I'm 18 years old. I live in a small town in Iceland called Höfn í Hornafirði and live there with my family; my father, Þórhallur Einarsson, who is a tractor-man, my mother, Arna Ósk Harðardóttir, who works at the post office. I have two siblings, a 16-year-old sister, Heba Börg and a 12-year-old brother, Eggert. We live in a house near the "beach", where we actually have a great view at Vatnajökull (the biggest glacier in Europe). The house is in a street called Sandbakki which is only about 500 meters away from the school I go to, FAS.
I really am a pretty normal 18-year-old guy, I like music, football… and even basketball, having fun/hanging out with friends (partying) and such things. I also like to watch movies and episodes, such as South Park, Friends, Prison Break, Heroes and Family Guy. I also use my computer a lot.
Music is the thing I like the most. I listen to all kinds of music, mainly grunge though, that is my favourite type of music… which would be such bands as Alice in Chains, Pearl Jam, Smashing Pumpkins and Soundgarden. I also play bass guitar.
I have a car, a blue German car which was used to deliver weapons and explosives from Berlin to Auswitz in the World War II. The most famous man who has ever stepped into it would probably be Adolf Hitler himself, but that was before I bought it, of course. (Actually, it's a Volkswagen Golf '99).
---