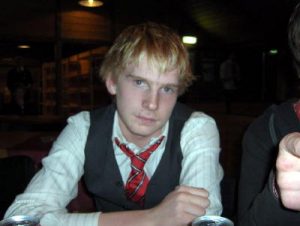 My name is Sindri Snær Þorsteinsson and I am 17 years old. I was born 28th February. I live in Höfn in Hornafjörður in the south east part of Iceland. I live on a farm called Skálafell, but in the winter time I rent an apartment with my friend. But normally I live with my parents (Þorsteinn & Þóra) in our farm. I have four brothers, Sigfús (33), Jón (30), Valdi (26) and Ingi (20) so I'm the youngest of 5 brothers in my family.
I go to FAS (Framhaldsskólinn í Austur-Skaftafellssýslu) and I am in my second year of three to graduate. That will be great.
I like sports very much and i practice football with FC Sindri, the football club here in our neighbourhood. I would say that sports is my mainly hobby, others hobbies are e.g. hanging out with my friends, my computer and many others.
Other of my main hobby is music, I listen a lot to music. My favourite bands are: The Beatles, Bright Eyes, Damien Rice, Death cab for cutie, Pink Floyd, Mew, Sigur Rós, Muse, In Flames and many others. I would say, that I can listen to any music except techno and hip-hop, that suck. I also like very much watching some TV shows, and my favourites are: Lost, Heroes, Jericho and Smallville.
If you want to know something else about me, add me on MSN: sindri@skalafell.net (very often online), or send me an email: sindrith@gmail.com.
---